Didn't Jesus say something like "my flesh is real food" and "my blood is real drink"
So perhaps Jesus was a vampire? Of course his hands and feet on the cross were nailed, but that didn't stop him, so therefore he must've been a vampire. Sure, he wanted people to be nice to each other, but look at how anti-authority he was.
Therefore, if Jesus was a vampire, wouldn't the Popes be vampires too?
BEHOLD: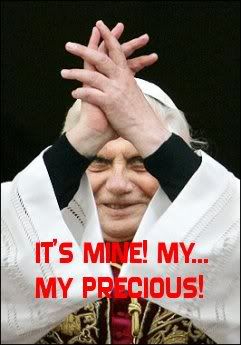 A vampire pope? You decide. I'd run a poll on this but I'd prefer discussion.
And what of the Father of Jesus anyway? The loving, kind god? Well if you read the Old Testament that same loving, kind god that is preached about today, wiped out humans all over the place, even lovingly flooding the earth. Was Noah a vampire on a ship surrounded by food? The god of the OT also demanded animal sacrifies which today is unthinkable in many countries. Obviously, this god in the Bible had to have been a vampire, just as Jesus was a vampire.
He said, "give us this day our daily bread" as he prayed to his father in heaven. Well if Jesus said his flesh was real food, what kind of bread is he asking for? What a warped religion.
This post was for educational purposes only, the text within are all in my opinion.